I absolutely love breakfast. Whether I am enjoying it on a lazy sun soaked morning or dancing around my kitchen making pancakes for dinner it has this easy way of instantly making me happy. I don't know any better way of enjoying a delicious breakfast except perhaps sharing it with your furry children. This versatile recipe will be a huge hit not only for the humans in your life but your little fur babies will beg for them again and again!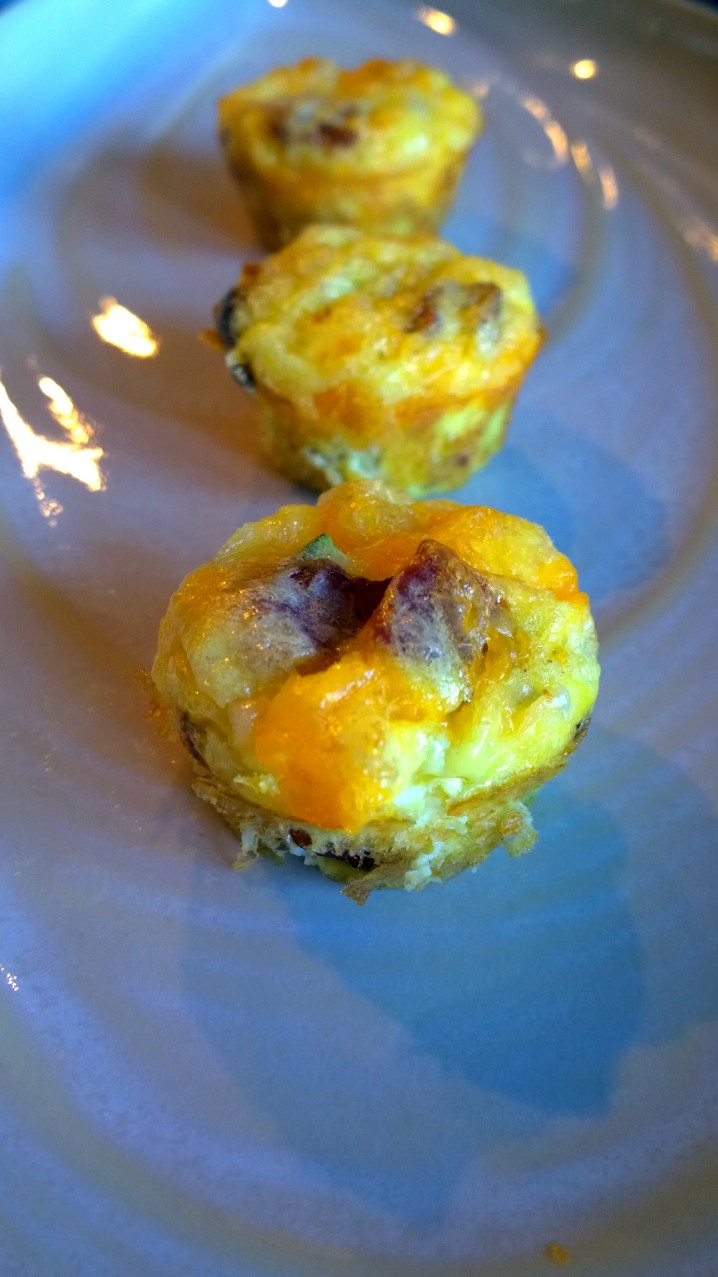 Mini Crust-less Quiche with Sweet Potato Home Fries
Makes 12 Mini Quiche
Quiche
15 Min Prep
20 Min Cook Time
4 Extra Large Eggs
1/3 Cup Shredded Cheddar Cheese
4 Strips of Bacon (crushed into bits) or ¼ cup of mini cubed ham
¼ cup of diced zucchini or asparagus
Cooking Spray
Mini Cupcake Tins
Preheat oven at 350F
Lightly spray mini cupcake tin
Divide shredded cheese, bacon bits, and diced zucchini evenly in 12 mini cupcake tins
In a bowl beat 4 eggs until well mixed
Evenly pour the egg mixture into the 12 filled mini cupcake tins until it just reaches the top (eggs will puff up while cooking)
Using a small fork gently mix the egg mixture in the mini cupcake to help mix all the ingredients
Bake for 15-20 minutes or until it is no longer shiny on top
Let cool for 5 minutes and then taking a knife slide around the edges of the quiche to help loosen from the pan
Let cool on cooling rack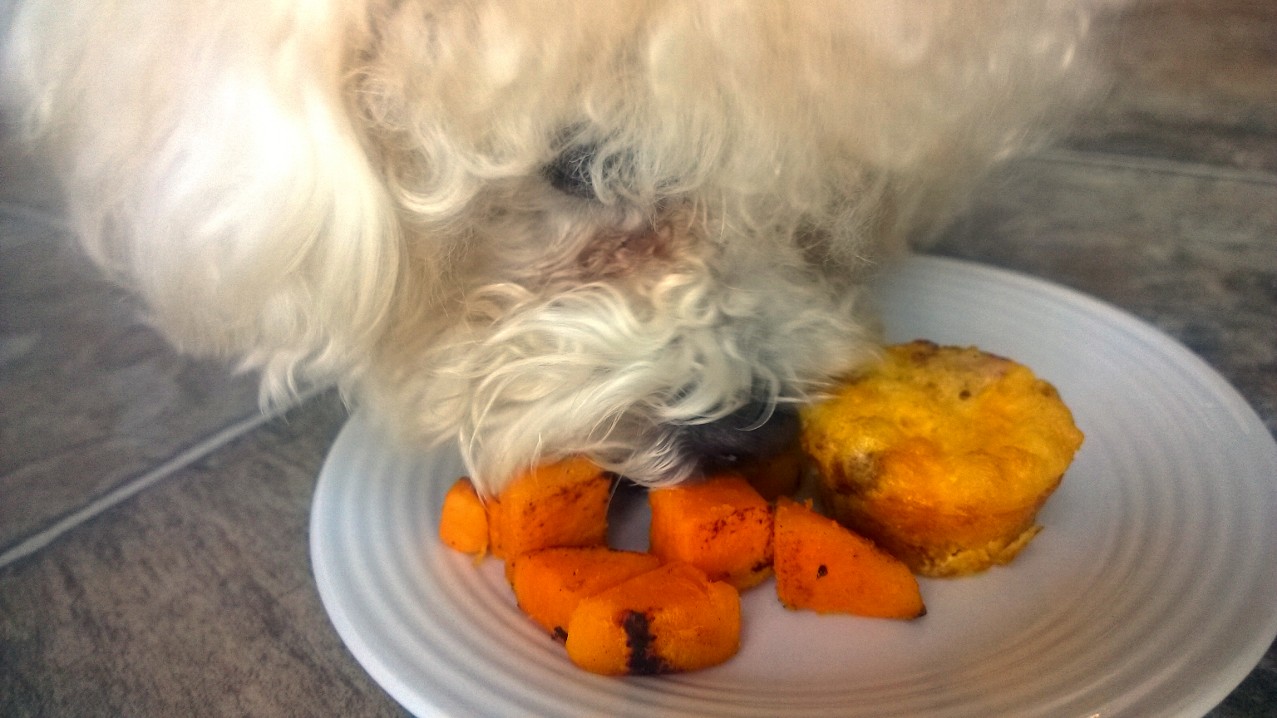 *Substitute any veggies that your pups are in love with! Gatsby love sweet bell peppers and broccoli which would be a great combination to put into this recipe
*Store in airtight container for up to 5 days in the refrigerator
*Always let food come to room temp or microwave for 5-10 seconds then let the food cool down
Sweet Potato Home Fries
5 Min Prep
20 Min Cook Time
1 Medium Sweet Potato (peeled and cubed)
Cooking Spray
In a medium pot place peeled and cubed sweet potatoes in the pan and fill with water until the potatoes are just covered
Boil sweet potatoes until just fork tender (10-15 minutes) then drain
Heat a small sauté pan then lightly spray with cooking spray place boiled sweet potatoes in the pan and let sit without touching them for 3 minutes so they develop a nice crust then toss and let sit for 2 minutes browning the other side
Put browned sweet potato on a plate until completely cooled
*Store in airtight container for up to 5 days in the refrigerator
*Leftovers make great treats that you can give to your furry babes!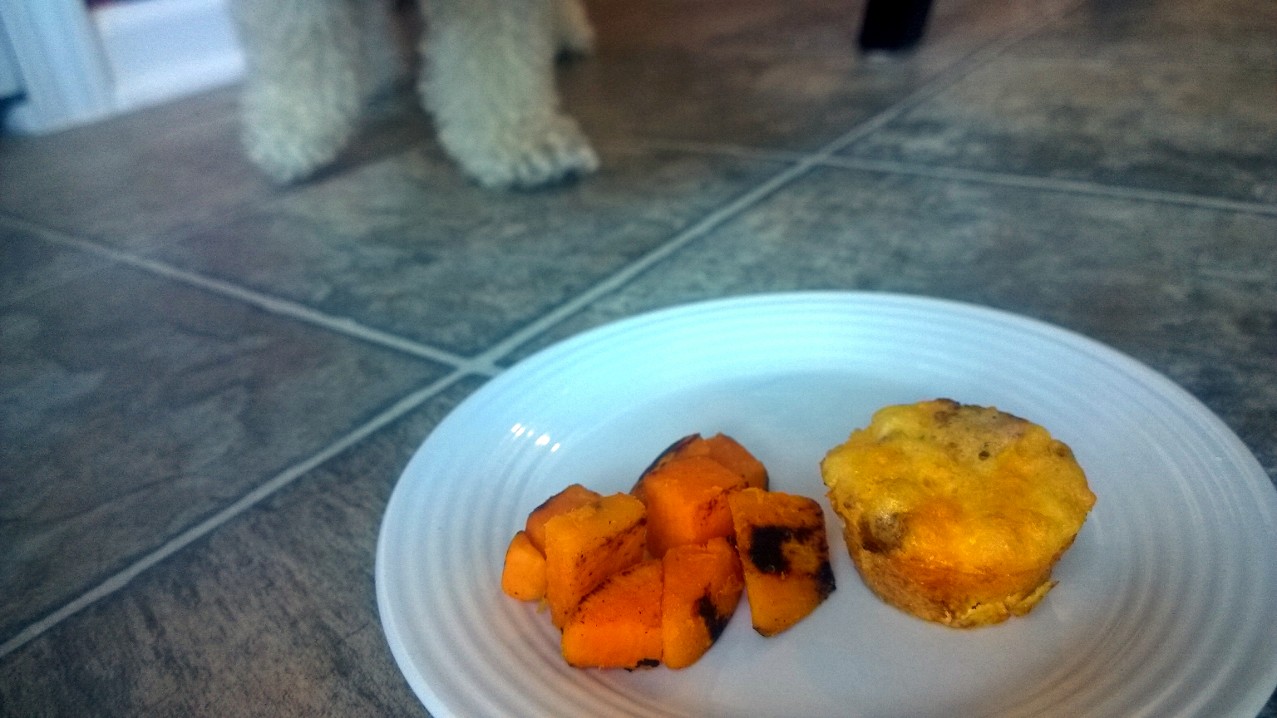 Bone Appetit
xx
Annie & Gatsby