Lake Geneva, Wisconsin has become our second home. Naturally we had to bring Gatsby for a fun packed day of adventuring. We couldn't of picked a better day, the soft blowing wind pushed big fluffy clouds in the sky playing peek a boo with the sun. I invited my long time friend Lauren and her new pup, a pomsky (Pomeranian husky mix), named Dakoda along as well. The moment we got there all I heard were "awe puppies!" There is something so simple by just looking at a dog that makes people's eyes light up. It's what makes me do what I do and the one thing that can always make me smile.
Gatsby and Dakoda started the day with a walk around the river meeting new human and dog friends. We met a Puggle that was filled with energy and Gats loved his curly tail. Dakoda at 4 months old loved all puppies and became instant best friends pouncing around and wagging his little tail. We stumbled upon people after people who gave their love so freely and shared their stories. The pups then had a great time playing by the lake. Still a little hesitant about jumping in but they watched other dogs playing fetch and soaked in some sun. I can't wait for Gatsby to make his first jump but we didn't want to force him. Gats dipped his fluffy little head in and Dakoda dipped his paws into the water twirling little currents with the biggest smile.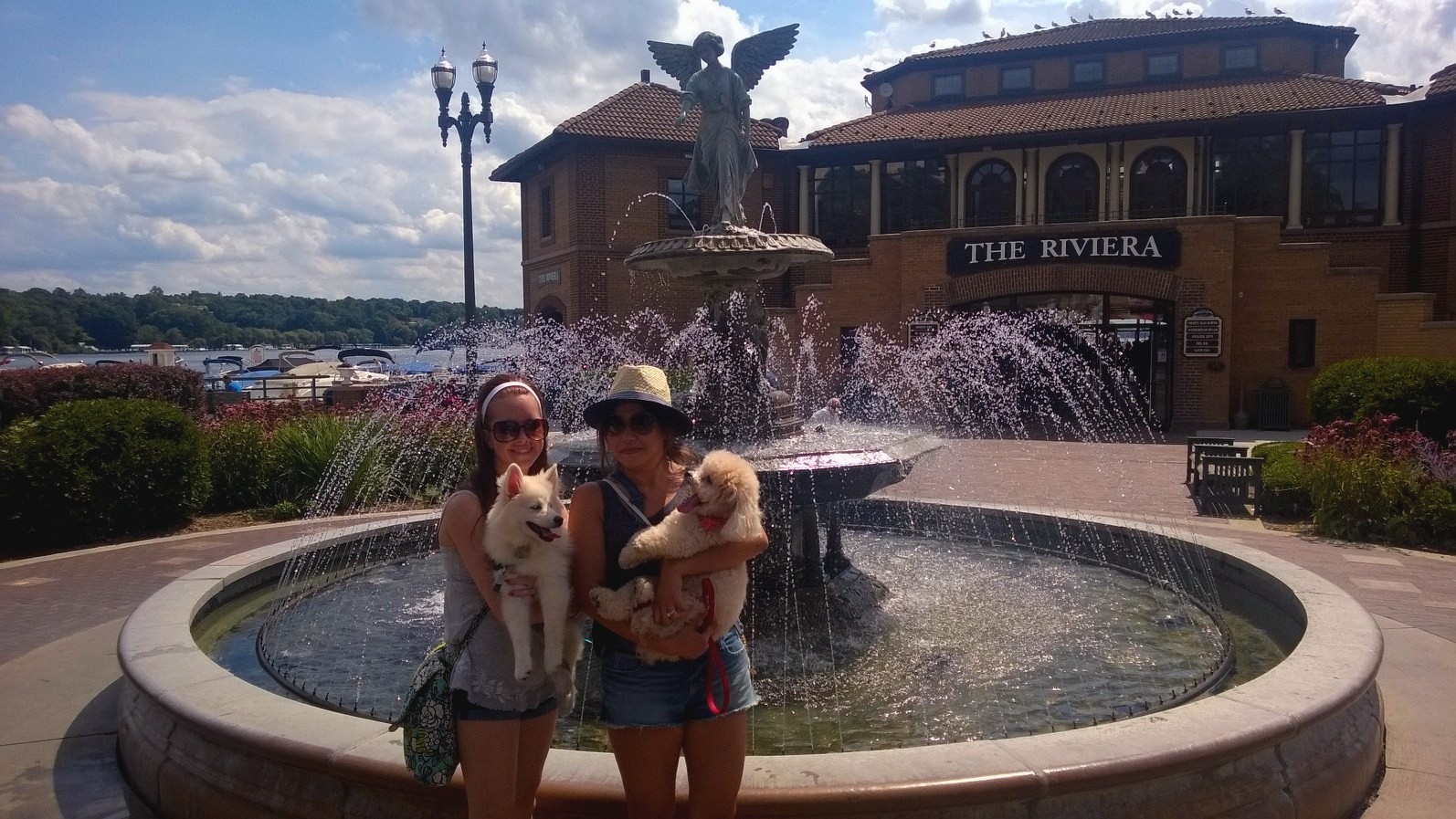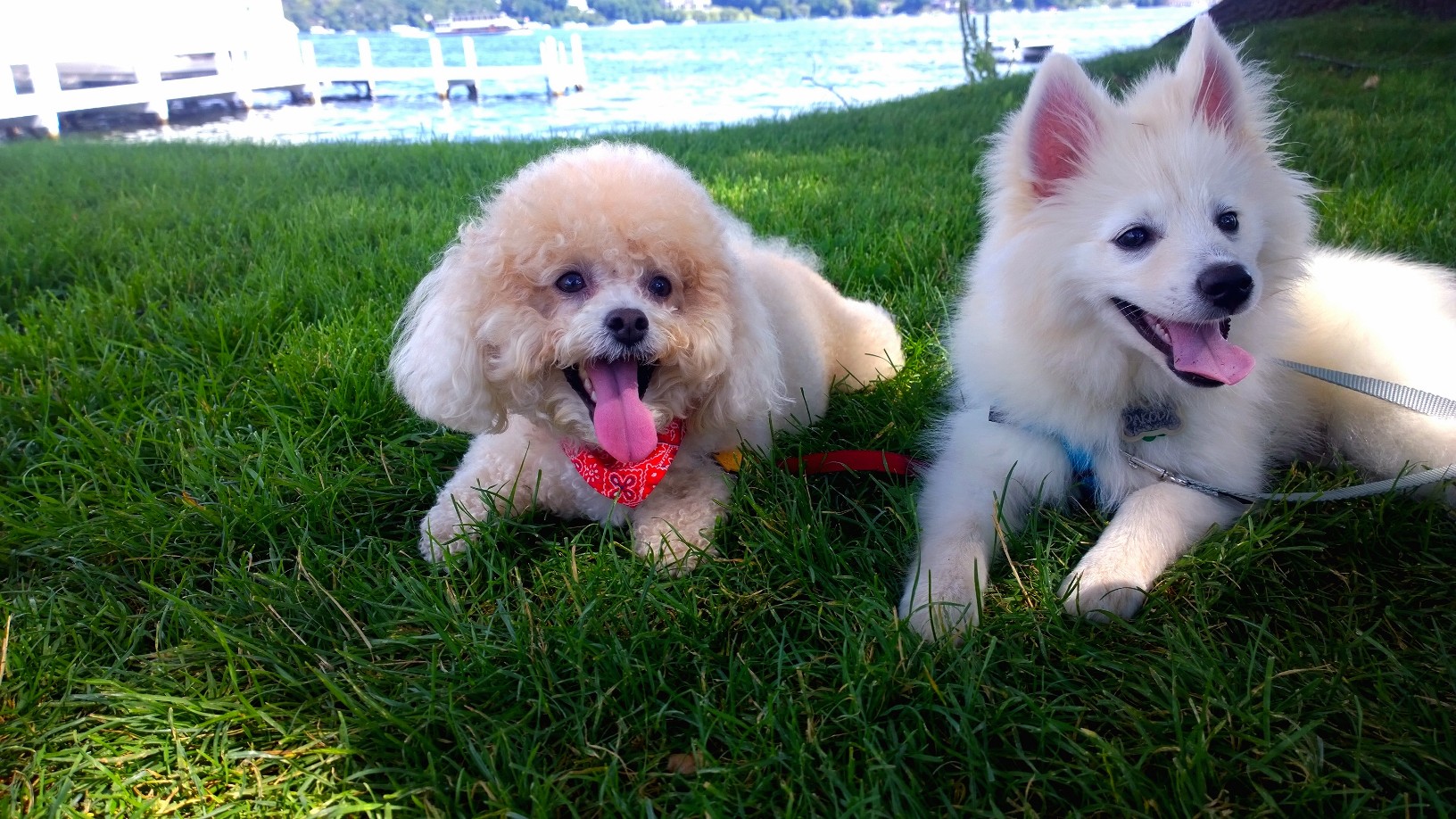 We came back towards town with two of the most tuckered out puppies with empty tummies. But before we can dig in and get some food we had to do some retail therapy. Most stores in Lake Geneva allow small dogs that can be held into the stores. A stop you can't miss is Paws for Treats. Gatsby ran into the store like he owned the place snooping around every corner and sticking his nose in all the toys. Paws for Treats is such an extremely comfortable place and the people who work there really welcome you as if you were going home. I love all of their dog dishes and bowls and all the organic treats they carry. If it were up to Gatsby we would of stayed there all day using up the a/c and cuddling with all the new toys. But I had an itch to stop by some of my favorite boutiques in town. I almost always find new pieces to add to my closet. The moment you walk into Edie Boutique and Bloomingbyrds your breath gets taken away for a second just by the stunning way everything is presented. Most stores downtown has this down home earthy feel each designed like mini boutiques you can only find in Lake Geneva. Each one is filled with unique eye catching jewelry, romantic flowy tops and dresses, soft cotton festival shorts in all varieties of colors. Gatsby and husband Mike were both very patient with my shopping and waiting for me to change in and out of outfits but my boys were ready to go eat!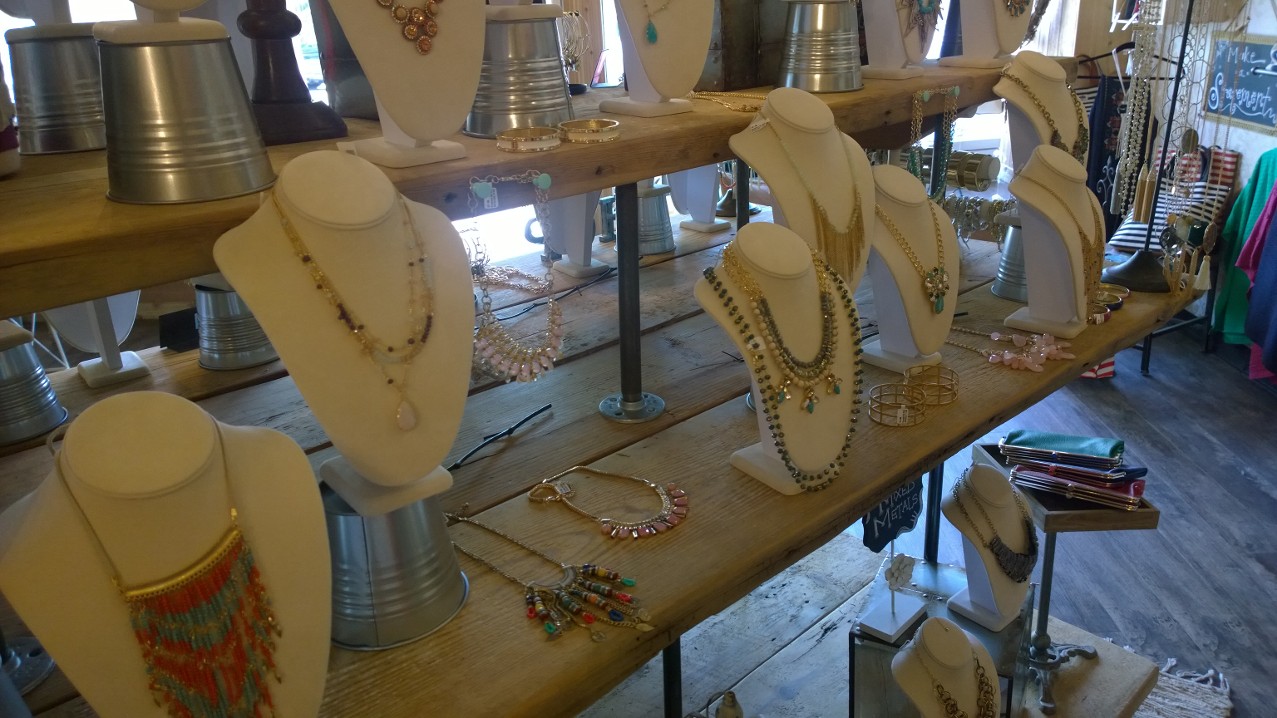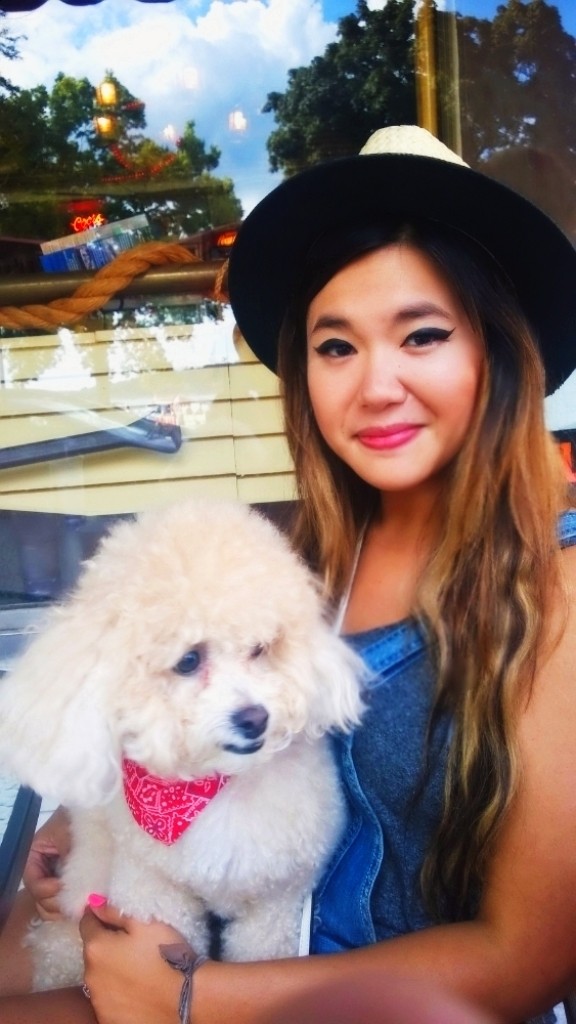 Now I won't lie every time we have gone up to Lake Geneva we almost always have to stop at Popeye's Restaurant. It is by far one of the best restaurants downtown and so close to the water you can always snag a great seat with the most stunning lake views. If you ever get a chance try their broccoli cheddar soup. The moment my taste buds got its first taste of this creamy heaven in a bowl I was in love. This is the creamiest cheesiest most broccoliest soup I have ever had. I've been trying to recreate it. Our waitress once told us that the soup has only four ingredients so eventually I will stumble upon the right combination to make this one as close to Popeye's as I possibly can. Now I know its hard not to impulsively order a whole pot of soup and go to town while soaking their sinful dinner rolls up with soupy goodness but if you are ready to let go, I definitely would recommend ordering any of the rotisserie style meats they offer that is slow roasted outside daily. If the smells don't lure you into this restaurant then you need a new nose! If you're feeling extra hungry and extra adventurous try their sampler platter. My favorite picks would be the rotisserie chicken, pulled pork, and beef kabobs. The chicken is so juicy and filled with flavor you won't want to move on but let yourself adventure onto the pulled pork. Oh my, the pulled pork. Big chunks of pulled pork are piled onto a big piece of texas toast and since I am in love with bbq sauce I drench those bad boys into their sweet and tangy bbq sauce like an addict. The pork is so tender it makes your mouth water up as you bite and let the juices melt onto your tongue. Can you tell I'm in love? I know it'll be hard not to eat all of it but remember you still have the beef kabobs! I know it's hard to fall in love all over again but you will. The beef kabobs are mouth watering tender topped with a pineapple mixture that will help lighten your palette from that delectable bbq sauce. It's an amazing way to end the meal. I know I have been ranting about Popeye's but I truly recommend it to anyone whether it is your first time in Lake Geneva or you're a Lake Geneva novice, Popeye's will never disappoint you.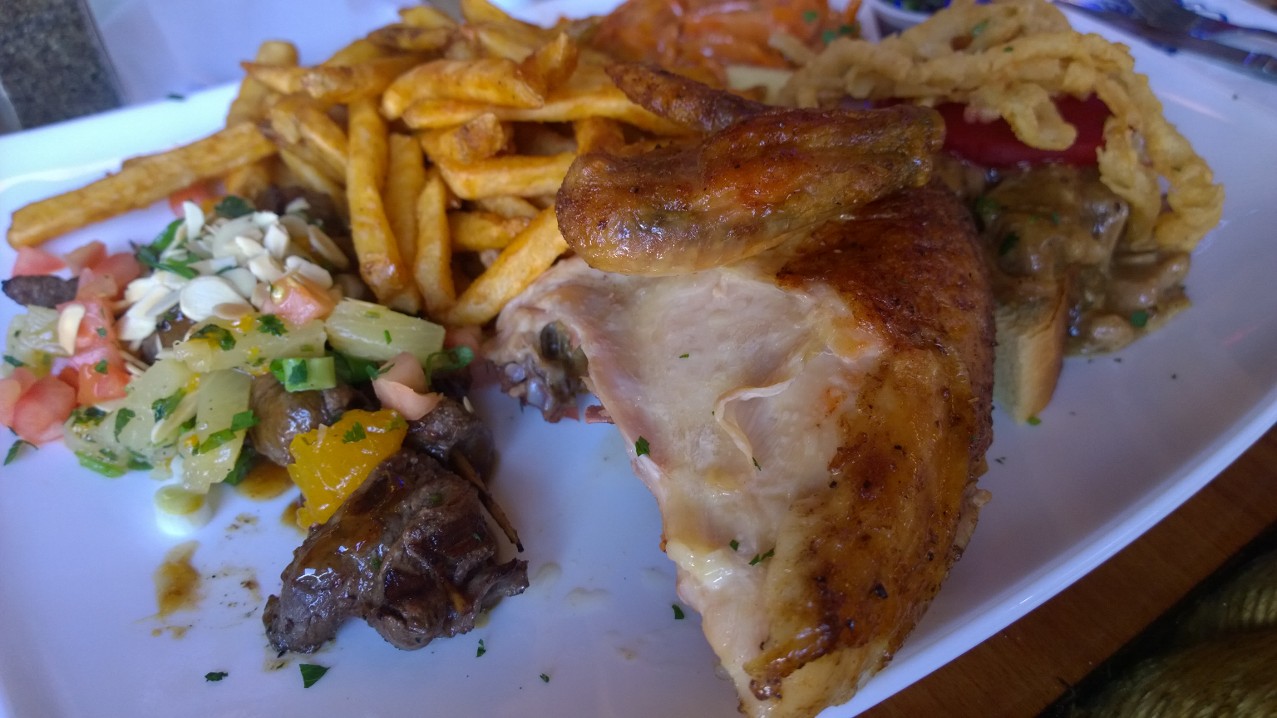 So I know I just had a five minute long rant about my favorite restaurant in Lake Geneva however for you awesome readers I let my temptations down and ventured into a different restaurant instead. We went to Speedo's Harbor Side Pub & Grill, which is right next door to Popeye's. If you are looking for a simple place to stop and enjoy a quick inexpensive burger or needing a snack of a basket of fries and some cold beers this is your place. We sat outside of course since we had the pups with us. It was so wonderful that our server brought out a pitcher of water and some cups for Gatsby and Dakoda. Mike ordered the captain their ½ pound bacon, swiss, and thousand island burger, Lauren ordered a BLT sandwich, and I of course was tempted by the basket of fries. The food was good just like you would get at any pub and grill. The burger was big and juicy however the patty itself lacked in seasoning the thousand island definitely helped with the flavoring. Gatsby ordered a piece of chicken, which he enjoyed immensely and little Dakoda curled up in a seat and took a nap. We lounged around while people watching just soaking in the beautiful day. We met some fellow Chicagoan's while at the restaurant as well. Ursula, Jim, and their wheaton terrier Newton sat down and Gatsby of course needed to go and introduce himself and make new friends. Newton was absolutely the curliest love bug ever and Gatsby snuggled up to Jim right away. I love meeting dog people!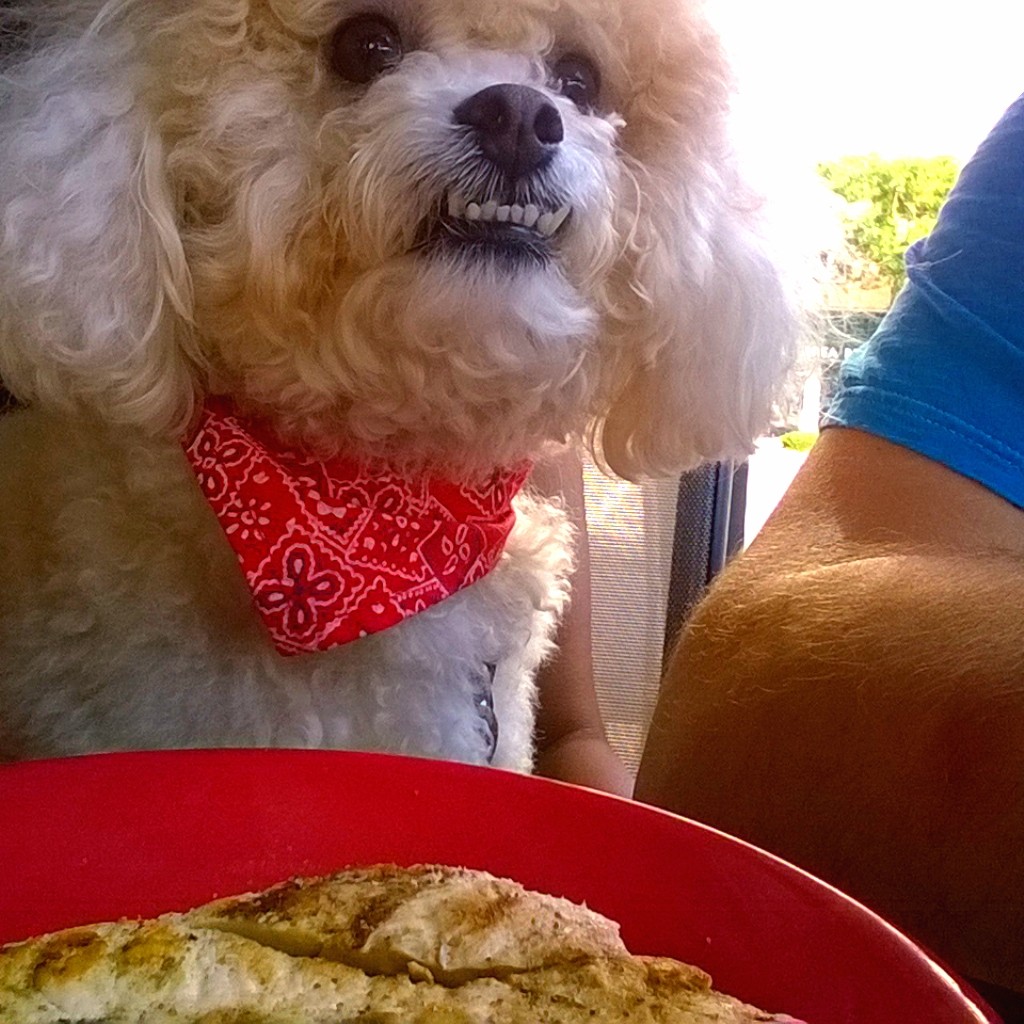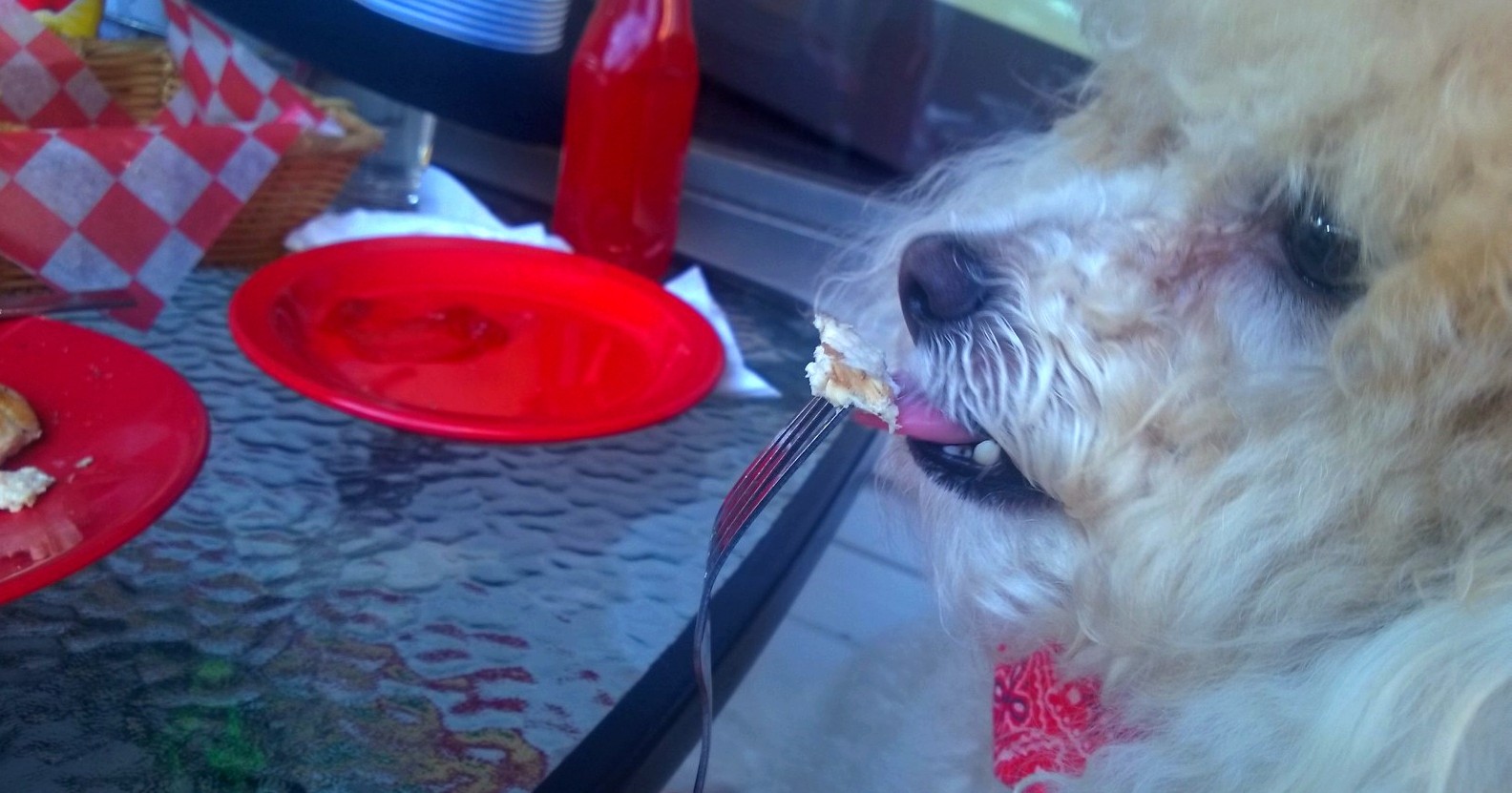 We ended the day with the only way we know how, which is stopping by Kilwin's Chocolate and Ice Cream shop. No visit can end without at least stepping inside and soaking up all the smells. Chocolate shops always make me feel like a child again and I can't help but order a big scoop of creamy ice cream in their homemade waffle cones. Gatsby and I shared a scoop of vanilla ice cream he couldn't wait to dig his tongue into something nice and cold. But if you are a butter pecan fan like Mike and I, Kilwin's offers the most heavenly luscious butter pecan. It is a sweet treat that you won't forget and hopefully it'll become a Lake Geneva tradition for you as well. So what are you waiting for? Head to Lake Geneva for a day of adventuring with your furry friend!
xox
Annie & Gatsby
p.s. Life is better at the lake